A weaker retail sale could cause the US yield curve to steepen, resulting in a stronger dollar due to US yield curve correlation with the dollar index. Long USD/JPY?
Federal Reserve will be meeting next week to update its economic projections and forward guidance. With retail sales being the last piece of data before the meeting, it could shape market expectations of Fed's forward guidance next week.
There are two reasons why we feel retail sales might be a miss:
Labour market is easing based on last week's NFP data, especially so for wages which could hurt retail sales data tonight.

Retail sales turned negative in December 2018 and since then, spending fell three out of the last five months.

However, weaker retail sale might not translate to a lasting breakout in dollar to the downside. This is because dollar correlation with US yield curve holds around 0.7 for the past two months. Therefore, a slowdown in the US economy will cause the US yield curve to steepen as the market starts to price in a cut, which results in a dollar strengthening.
USD/JPY has been consolidating in a 70 pips tight range. We expect 107.90 as a good support for this pair to rebound higher.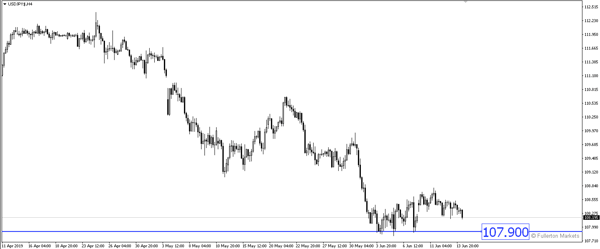 Fullerton Markets Research Team
Your Committed Trading Partner