Both Powell's testimony and Bank of Canada's monetary policy announcement are happening tonight. We should expect huge volatility in USD/CAD.
Powell's testimony on the economy and monetary policy and Bank of Canada's monetary policy announcement will be happening concurrently tonight. Both have the potential to be market movers depending on the outcome.
Powell's Testimony

Market will be looking for Powell's view on the recent labour data and the rally of dollar after the data. The market still sees a near 100% chance of a quarter-point rate cut at the end of the month. The jobs report has removed expectations of a half-point move since then.

During Fed's previous meeting, they made it clear that rate cuts are on the table but largely data dependent. NFP was mixed with wage growth falling and unemployment rate increasing. Employment change is the only data that improved. Furthermore, service and manufacturing sector activity continue to slow.

One of the few main reasons why Fed wants to ease previously was partly due to the escalation of US-China trade tensions. With trade tension temporarily out of the way, Fed could delay easing until more data is out.

Two things could happen during Powell's testimony:
1) Powell acknowledges the slowdown in the US economy and talks about the risks ahead. We could see dollar dive with USD/JPY hitting the 107.70 price level.

2) Powell focuses on the strength of the labour market and feels that easing is still required but requires more data before cutting rates. This optimism will cause dollar to continue rallying with USD/JPY hitting the 109.70 price level.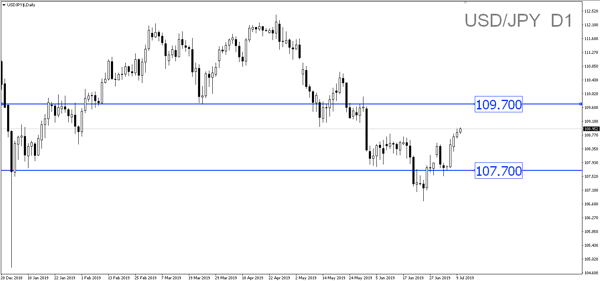 FOMC minutes on Thursday is expected to be dovish but Powell's testimony should overshadow the minutes.

Bank of Canada's Policy Decision

Bank of Canada is one of the few central banks left who have not expressed any dovish bias or talked about easing yet. The market will be curious to see if that has changed after data showed cracks in Canada's economy.

Retail sales barely grew in April though it comes after very strong spending in March, while jobs growth was mixed last week. Although there are tentative signs of slowing, Bank of Canada could wait for more signs before talking about easing.

There are two outcomes for BoC's policy decision:
1) If BoC remains neutral without changing their outlook, USD/CAD could fall towards fresh 1.5-year lows.

2) If they remain cautious and talk about easing, CAD/CHF has the potential to fall the most as it's hovering around its resistance.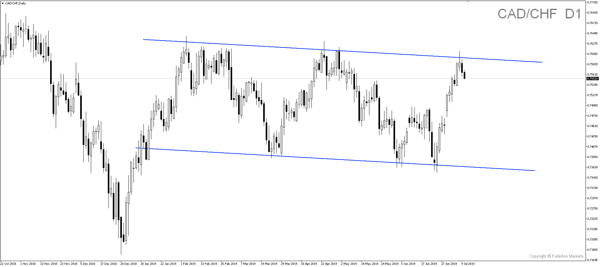 All in all, USD/CAD seems to be sitting on a solid support at price region ranging from 1.3070 to 1.3120. Based on technical, it is more likely to move higher towards 1.32500.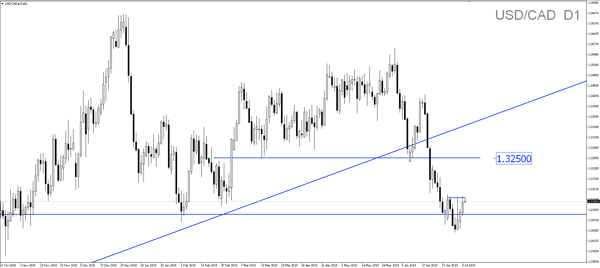 Fullerton Markets Research Team
Your Committed Trading Partner