As RBA's optimism last week was largely due to labour data, a stronger data tomorrow could boost the Aussie dollar. Short EUR/AUD if data surpasses expectations.
RBA cut rates last week from 1.50% to 1.25% as widely expected. RBA Governor Lowe's optimism was mainly due to the strength of Australia's labour data and GDP. Furthermore, Lowe felt that the rate cut could boost employment and achieve further progress towards the inflation target.

Australia's labour market has experienced robust jobs growth, resulting in the unemployment rate hitting a mid-2011 low of 4.9%. The consensus tomorrow for employment change is 16k and unemployment rate is expected to tick lower to 5.1%.

The only downside risk to Aussie dollar is the US-China trade tensions which continue to escalate after Trump said on Tuesday that he had no interest in moving ahead unless Beijing agrees to 4 or 5 "major points" that Trump did not specify.

Therefore, Australia's jobs, inflation and housing data are important for the next move in interest rates. If data were to disappoint, RBA could be inclined to bring further rate cuts, causing Aussie to fall lower.

EUR/AUD has been strengthening for the past two weeks, hitting a January 2019 high. If labour data were to be in line with forecast, EUR/AUD which is hitting a resistance, could fall.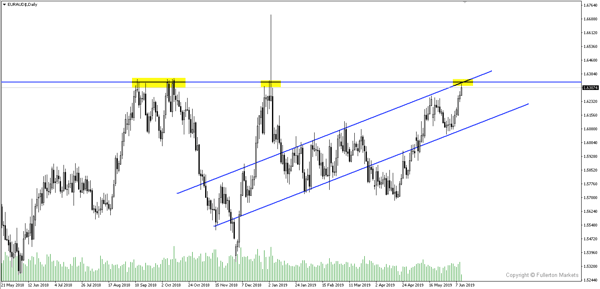 Fullerton Markets Research Team
Your Committed Trading Partner