If Powell were to maintain his neutral stance on forward guidance, dollar could strengthen as Fed Fund Futures is already pricing in a 95% cut in September. Short EUR/USD?
FOMC tonight may be the most important central bank meeting in June. With no rate changes expected from Fed, its forward guidance and dot plot will be the highlight of the event. To end it off, Fed Chair Powell's press conference will also be a market mover.
The market is pricing in a 95% quarter point rate cut in September according to the Fed fund futures. In March, the dot plot forecast was reduced from two rate hikes in 2019 to zero. This was due to low inflation, household spending and business investment. During the FOMC in May, Powell remained neutral and dismissed talk of easing.
Since then, the US economy has seen worse-than-expected data with labour data, CPI, and the housing market all slowing down. Even though retail sales last week came in at 0.5% versus the -0.1% the previous month, it was still far from its peak.
All eyes will be focusing on the forward guidance and dot plot set this time round. If Powell were to mention that a rate cut is necessary this year and change the forward guidance, dollar could fall sharply.
However, we feel that Powell may keep things unchanged for the rest of the year due to stock prices remaining stable and jobs growth being relatively healthy. Furthermore, the decline in US yields is also helping the economy and supporting the dollar slightly.
EUR/USD will be the best pair to trade this time round if Powell were to remain neutral in his stance. At its annual forum in Sintra, the ECB hinted at further stimulus due to a dimming global economic outlook. EUR/USD could fall towards 1.1100, which will open the door to a further fall towards 1.0900.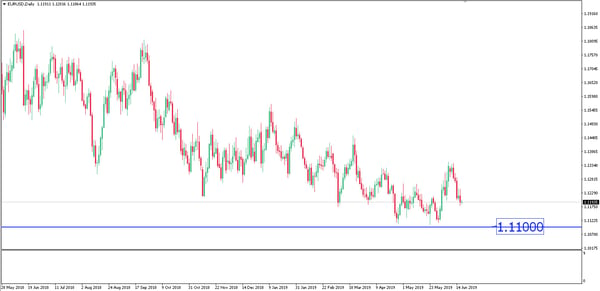 Fullerton Markets Research Team
Your Committed Trading Partner