Traders are looking to buy safe-haven assets while dumping risk-assets, sell AUD/JPY to double the profit?
Global stocks' sell-off continues
Steeper equity market declines could weigh on yields, as Federal Reserve under Chairman Jerome Powell has already proven its readiness to be dovish when market conditions are strained. Financial conditions have tightened since the start of the month, when Powell said the forces behind weak price pressures could be transitory. Nevertheless, bond traders have ratcheted back inflation expectations for two straight weeks.
Wagers have gained traction with the escalation in trade tensions between the world's two largest economies. The latest US tariff increase and promised retaliation from China are setbacks to the case for higher Treasury yields. Furthermore, a tame inflation data Friday didn't help.
Yields on benchmark two-year and 10-year notes have dropped to 2.27% and 2.47% respectively, and that's even before the market has had the chance to react to the latest rhetoric. They've more than reversed their advance following the 1 May Fed meeting, when Powell's remarks on inflation fuelled what looked like the beginning of a more optimistic market shift toward stronger growth expectations. Positioning for a rate cut was briefly pushed back to mid-2020, but markets now reflect stronger confidence in a move this year.
FX traders were the first to react to the latest verbal exchanges between the two largest economies. Traditional havens such as the Japanese yen strengthened in early Asia-Pacific trading today, while the US dollar advanced against the yuan and trade-sensitive currencies like Aussie.
Dollar strengthening against the yuan signalled that the greenback should remain strong against the euro and other major currencies. As for the Federal Reserve's unwillingness to consider easing monetary policy, this would continue to support a strong dollar outlook.
The risk of a broader or more protracted trade battle could push the market back to the darker days of the fourth quarter last year, when trade tensions helped drive the S&P 500 Index toward its weakest levels of 2018. The concern here is really that this undermines business and consumer confidence in a way that puts us back where we were in the fall of last year.
Our Picks
AUD/JPY: The pair may drop towards 75.38 amid fresh trade war concerns.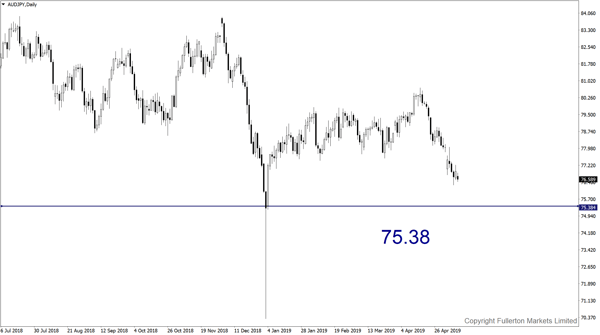 H33/HKD (Hang Seng Index): This index may drop to 28112 this week as volatility in Shanghai stocks are increasing.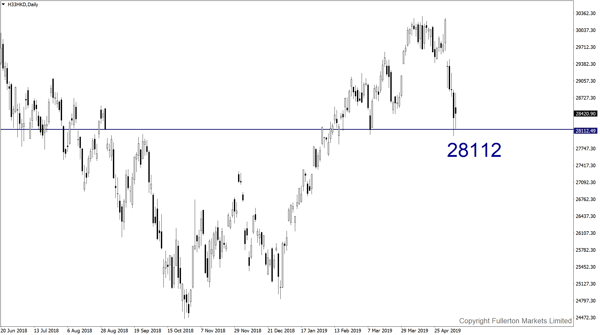 USD/JPY: This pair may drop towards 119.25 as the Fed may turn more dovish.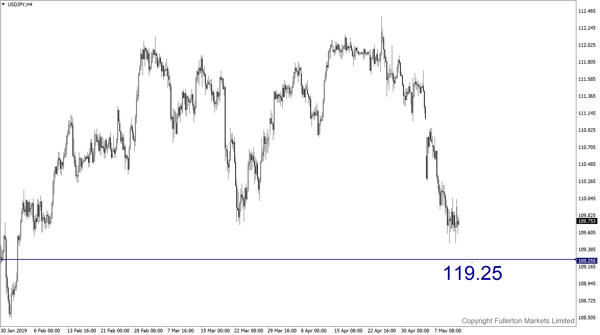 XAU/USD: This pair may rise towards 1289 this week.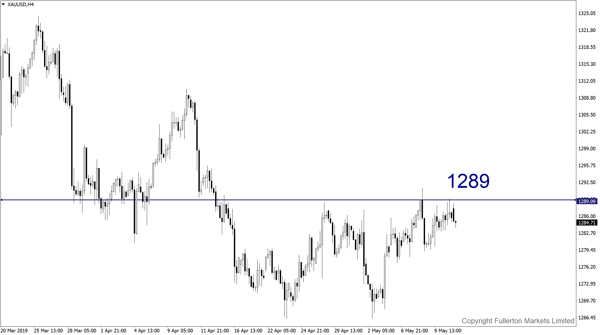 Fullerton Markets Research Team
Your Committed Trading Partner