Fullerton Markets' Head of Research and Education, Wayne Ko, will join an esteemed panel of speakers at the Traders Fair taking place at the Windsor Plaza Hotel, Saigon in Ho Chi Minh City on 24 November 2018.
The series, which will be held in Vietnam, gathers traders, investors and brokers in one place as they share trading ideas, get incisive market updates, and build connections with industry peers.
"Reaching out to an ever-growing number of traders has been one of the core missions of Fullerton Markets' Research and Education team. Through platforms like the Traders Fair, we bring our analysis, trading techniques and practical trading tips directly to participants looking to achieve success and make consistent profits in the Forex market. More importantly, we equip traders with the fundamental skills to help them embark on a smooth trading journey," said Head of Research and Education at Fullerton Markets, Wayne Ko.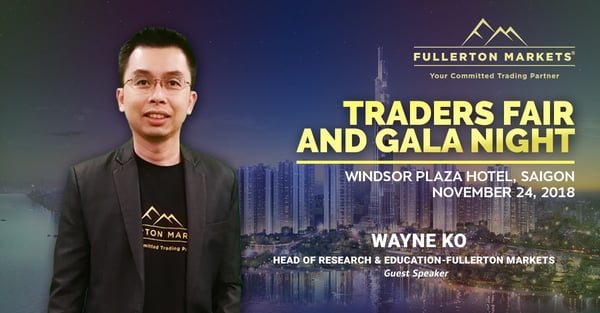 At the upcoming event, Wayne will discuss how best to overcome trading's biggest pitfalls in his presentation titled "Avoid the #1 Mistake of All Traders". He draws his experience from years of trading, backed by a sound grasp of the global markets. As a regular speaker at regional seminars, Wayne engages with traders of diverse backgrounds with the objective of helping them execute trades confidently with expert insights and strategies.
Wayne recently led his team to the title of "Best Research and Education Asia Pacific 2018", an award presented by the International Business Magazine in recognition of excellent service in the education and training sector. This accolade adds to other honours Fullerton Markets received this year, namely, "Best STP Broker" and "Best ECN Broker" at the acclaimed World Finance Forex Awards.