With the market already pricing in a downgrade in eurozone economic projections, only a change in forward guidance could push euro lower. Short EUR/USD if Draghi were to mention a rate cut tonight.
ECB is widely expected to keep rates unchanged tonight. What the market will be looking out for will be the update in economic projections and its forward guidance. Furthermore, the details of the TLTROs (Targeted Long-Term Refinancing Operation) will be revealed as well.
There are 3 things to take note tonight which will determine how euro would move:
Economic projections – If ECB were to downgrade economic projections tonight, which is highly likely amidst the weaker economic data from Germany, euro could fall.
Forward guidance – With most of the central banks looking for a rate cut, ECB could be moving towards a similar path as eurozone economy continue to be sluggish.

ECB President Draghi opened another door to further reduction by promising to review whether banks need some relief by exempting some deposits from the charge. This could be a sign that Draghi is considering a rate cut in time to come.
TLTROs – During the meeting in March, ECB announced a series of new loans to provide additional stimulus to the economy. The details will be revealed tonight, and market will be eager to see how generous the program will be, how it will be priced and whether the interest rate be negative, zero or close to zero.
All in all, with EUR/USD already oversold for the past few months, it would take a very dovish ECB to push EUR/USD below the 1.1120 price level. The deal breaker for euro tonight will be if ECB were to mention a need for further new loans and a change in forward guidance.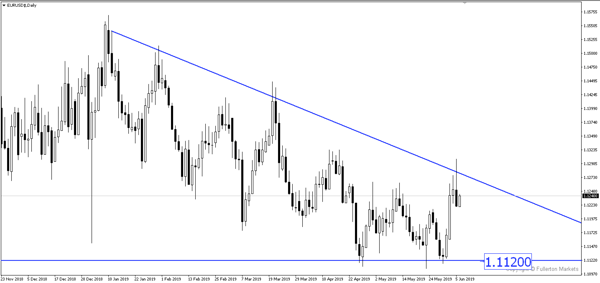 Fullerton Markets Research Team
Your Committed Trading Partner