With odds of a rate cut this year still remaining high, the gains in AUD/USD could be temporary. Short AUD/USD?
RBA kept rates unchanged for the 30th consecutive meeting at a record low of 1.5%. This is seen as hawkish to the market as they were anticipating a rate cut to 1.25%.
The market is pricing in a 37% chance of a rate cut in June and more than 70% in August.
Australia's economy since the last meeting has seen broad-based improvement, with retail sales, manufacturing, service and construction sector activity improving and job growth accelerating.
In April, RBA said: "The Board will continue to monitor developments and set monetary policy to support sustainable growth in the economy and achieve the inflation target over time" which suggested that they are moving to a more dovish posture.
US-China trade tensions flared up after Trump tweeted that he will raise tariffs on US$200 billion (S$272 billion) worth of Chinese goods to 25% from 10% by the end of the week and would "soon" target the remaining Chinese imports with tariffs.
Aussie dollar gained with news of Chinese Vice Premier Liu He expected to be in Washington on Thursday and Friday this week as part of a Chinese delegation to try to reach a deal before the new tariff deadline, said US Trade Representative Robert Lighthizer.
We believe that the gains in Aussie dollar is temporary as the market will eventually price in a rate cut, though the volatility of US-China trade talks could whiplash Aussie dollar depending on the outcome of the deal.
AUD/USD could fall back to 0.7000 as bearish sentiments will return in time to come.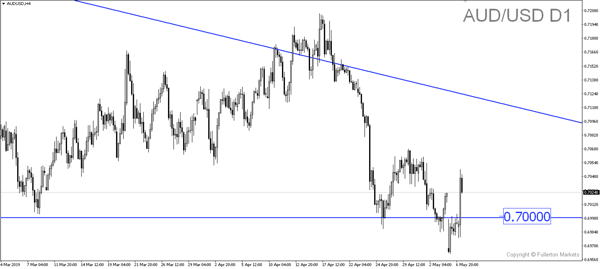 Fullerton Markets Research Team
Your Committed Trading Partner